Ronnie Spiteri
A track you love to hear on a sunny morning…
I always love putting on 'Guy Mantzur, Roy Rosenfeld – 'Epika' on a fresh Sunday morning while I make breakfast. It's a lovely track and puts me in a good mood.
Your perfect breakfast would be…
Smashed avocado with scrambled eggs on a bagel with little bit of salt, pepper and olive oil…..
The dish that reminds me of my childhood
Hungarian Goulash, as my step mum's Granddad was from Hungry and used to cook it for us most weekend's when we went over there.
Who taught you to cook?
I taught myself how to cook as I have lived on my own from the age of 16, so I had to grow and look after myself fast….
Your favourite 3 restaurants in your home city (Southampton, England)
1. Lakaz Maman (below)

2. Orange Rooms
3. Coriander Lounge
You won't go wrong with all 3 of these places!!
5 other restaurants from around the world you love…
La Escollera, Es Cavallet, Ibiza

Sa Punta, Talamanca, Ibiza

Cova Santa, Sant Jordi, Ibiza

Nobu, Miami

Burger & Lobster, London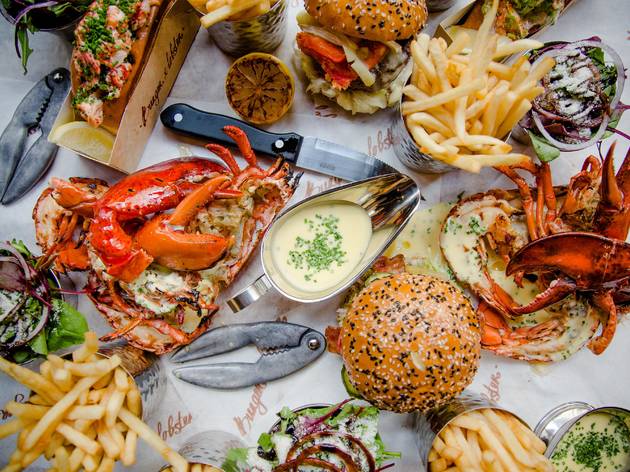 Shiba Toufuya Ukai, Tokyo
A DJ or musician that has surprised you with their cooking skills at home/their home…what did they cook?
Reset Robot has knocked up some pretty amazing dishes and I think he could become a chef if he wasn't a DJ ha ha! The best dish he cooked me was at his house, where he did a homemade pizza straight from his own pizza oven! He also introduced me to marmite and peanut butter on sourdough – don't know it until you've tried it! I made that mistake.
Your guilty pleasure food. You know you shouldn't but you always do…
Has to be a McDonalds Breakfast…
What is your signature dish?
I made a mean chicken in black bean sauce with mushroom rice dish .
If you could have a master-class with a celebrity chef, who'd you pick and why?
Simon Rogan, because he creates the craziest dishes that you would not even think are possible to do…
Dead or alive – 3 famous people you would invite around for dinner…
• Jennifer Aniston
• Pele
• My Dad (He's Famous In Southampton)
A dish you have yet to master…
Sushi.
Your favourite pizza topping
I keep it simple and fresh. Just cheese, basil, drizzle of olive oil and season.
A dish you just cannot eat
Frogs.
You get in from the club pissed, dive in the fridge and usually come out with…?
The Chinese I ordered before leaving for that night out! I'm good at anticipating that……ha ha!
The most expensive meal you have ever had?
Has to be a steak meal at this 5 star hotel in London, it cost me about £120.
Part 2 – Ibiza focus…
My favourite restaurants on the island…
I love going to the amazing  El Chiringuito at Cala Gracioneta, which is owned by Javier from Mambo. The food and service is always amazing.
The best sunset spot for a cold drink…
I always like going to Mambos with my girlfriend and my little girl for food and drinks then we walk up and watch the sunset.
A record that always reminds you of Ibiza
Greece 2000.
Your favourite Ibiza dish
Has to be a blinding paella with and nice bottle of white wine.
The perfect 24 hours in Ibiza would be…
Lunch at Es Collera, then walk along Salinas Beach, sunset at Sunset Ashram and then to Do Not Sleep on Thursday night at Amnesia.
Ronnie's debut on Alan Fitzpatrick's label We Are The Brave is out now and includes his 'Thunder Life' EP.
He is back at Amnesia on the 26th July, 16th August and 20th September.
Pre-order HERE: https://www.beatport.com/release/thunder-life/2313616
www.facebook.com/DjRonnieSpiteri
www.soundcloud.com/dj-ronnie-spiteri