k

Love Food Ibiza at Pikes

k
Tess Prince – Recipe Developer, Food Stylist and Private Chef
Tess Prince is an Ibiza-based international chef, food writer and stylist who is passionate about food and nurturing the soul through the provision of exquisitely presented food-art. Her previous career in London with Baxter Storey saw her consult alongside Yotam Ottolenghi which is where her love affair with Middle Eastern and Mediterranean cooking began.
Tess has condensed her 20 years of culinary experience to provide intimate, bespoke and exceptional dining for private clients including Ibiza's visiting celebrities from the world of music, fashion and television.
Tess has a vast knowledge of food and nutrition (BA Hons) and for 4 years has been Resident Chef at Ibiza's premier yoga retreat Soul Adventures, cooking Macrobiotic, raw vegan and Ayurvedic food.
Love Food Ibiza Brunch and Lunch Menu Development and Delivery
We all know the power of social media and I truly believe that every single item that comes out of the daytime kitchen should be 'Instagramable' – BUT also delicious, nutritious and memorable. We want the clients to have a desire to sample every dish on the menu, therefore we need to be savvy so that these dishes are what people want…but also including some indulgences. For me, the essence of my brand Love Food Ibiza is quite simple: exceptional food that brings joy for all food preferences and desires.
I intend to perform a full overhaul of the menu, beginning with the following steps:
– An initial consultation with Head Chef Lee Milne to discuss my new menu and establish timeline of production processes
– A menu tasting at my home
– The purchase of some new service ware to accompany my food styling concepts
– Finalising of menu design
– Full recipe specifications for staff reference including photos of each menu item
– One on one staff training and on going development and appraisals
It is imperative that the standard of food is 100% at all times. From the outset it is all about quality control and maintaining the momentum throughout the whole season. Therefore, I will be on site several days a week to support staff and have a general presence. It goes without saying that there are many other aspects at the Pikes restaurant that I would love to be involved with including:
– An incredible Pikes Cookbook
– Videos and food photography for Social Media platforms
– Food related podcasts
– Providing food for Pikes retreats
– Cookery classes and food styling for residents and non residents
– Pop-Ups – for example a 'Mad Tapas Tea Party'
Love Food Ibiza Gallery For Pikes
As discussed at our first meeting, we combine the breakfast with the brunch and lunch menu so that the offering will cover every food desire. As suggested, we keep the highest selling items on the menu namely the Full English Breakfast and Skinny Breakfast – I will also relaunch a new epic dirty beefburger!
Below are some suggestions of my menu additions that I know will be incredible at Pikes this summer…all to be discussed and confirmed.
A beautiful Chia Pudding with seasonal fruits
Two tone Chia Smoothie Bowl
All Day Fruit Platter with a Probiotic Yoghurt, homemade granola and superfood fruit compote
Neon pink Pitaya Bowl with seasonal fruits
Supergreens Smoothie Bowl
Gluten-free Breakfast Pancakes
Pamelas Smoothies Bowl
Classic Acai Bowl
Energising Overnight Oats with season fruits and flowers
Overnight Oats with homemade Ibiza lemon curd and blueberries
Sweet & Savoury Toasts with nut butters and superfood jams
Egg options:
Turkish Eggs with Dukkah and Labneh with Aleppo Chilli Sauce
Amazing 10 Seed Omega Crackers
Seasonal Shakshouka
Baked Ricotta with charred asparagus and roasted pepper sauce
Beetroot Burgers with a turmeric mango dressing, pickled red onion and sprouts
A truly beautiful Nicoise Salad with a Lebanese twist (sumac beetroot, za-atar cannelini beans, nasturtium flowers and preserved lemons)
Amazing roasted cauliflower falafel (which could be added to a mezze platter)
Buckwheat and quinoa with cumin roasted carrots, pomegranate and chargrilled haloumi (which could be added to a mezze platter)
Butterbean purée dip with Muhammara (which could be added to a mezze platter)
An example of a Love Food Ibiza Rainbow Platter
50-50 Turkey Burgers with a turmeric mango sauce
Another great vegan option – baked sweet potato with creamy tahini, roasted chickpeas, asparagus and dukkah
Unbelievable Tofu Satay Skewers with Vietnamese slaw and Nuoc Cham dipping sauce
Now hear me out guys! Every time I had my Love Food Ibiza Pop-Up at the Sluiz Food Festival, I literally had people traveling across the island for my sausage rolls! So I have an idea of a Pikes Best Ever Sausage Roll…I know they will absolutely fly! Perfect for the biggest hangover!
We should also create one giant eclectic 'bits and bobs' Meze platter, incorporating items already on the menu.
For example:
Meze board: falafel, quinoa buckwheat, butterbean purée, mint labneh, tzatziki, sesame baked feta, muhmmara, mixed pickled veggies, mung bean sprouts and warm flat breads.
(The image below is not Love Food Ibiza, my one is infinitely better!)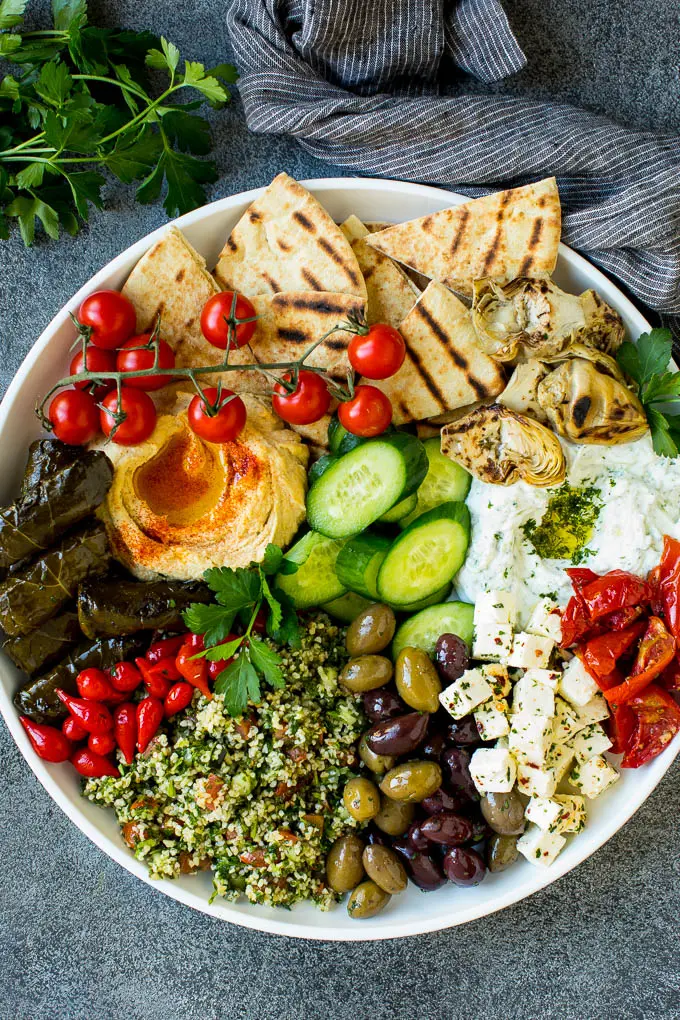 Below are further references of my Love Food Ibiza presentation...
Love Food Ibiza/Tess Prince Editorial
For further reference, here are some recent publications of my recipes and food writing…
Thrive Magazine
Walnut Magazine
Vegan Food & Living Magazine
Ibiza People & Food Cookbook
Various Ibiza press