Enrico Sangiuliano
A track you love to hear on a sunny morning…
Alva Noto & Ryuichi Sakamoto – Uoon I
Your perfect breakfast would be…
A fruit shake made with rice milk and a tostada with aguacate y tomate!
The dish that reminds me of my childhood
"Cappelletti in brodo" homemade by my grandma. This is a typical dish from Reggio Emilia, my hometown. It's similar to "tortellini" but more unique. Maybe you'll have a chance to eat them one day if really lucky!
Who taught you to cook?
My grandma for traditional recipes, but 9 out of 10 I eat my own raw food recipes, basically made with vegetables and plants.
Your favourite 3 restaurants in your home city
Here in Milan there are plenty of good choices…
Ristorante Ratanà brings an amazing mix between tradition and future with a sustainable approach.
Then Coke is the best pizza in town in my opinion.
And last but not least if you pass by my home kitchen, I can cook you something nice.
5 other restaurants from around the world you love…
Osteria Francescana in Modena (below)
Due Platani in Parma
Peumayen Ancestral Food in Santiago De Chile
Yamazato in Amsterdam
The Test Kitchen in Cape Town.
A DJ or musician that has surprised you with their cooking skills at home/their home…what did they cook
Actually, this happened but the opposite way around. I cooked a nice pasta dish at Adam Beyer's house in Ibiza and a Risotto too with funghi porcini for Secret Cinema in his home in Amsterdam. So I am the one who has surprised myself!
Your guilty pleasure food. You know you shouldn't but you always do…
Dark chocolate.
What is your signature dish?
Salads in general. And I've got my signature recipe for mayo!
If you could have a master-class with a celebrity chef, who'd you pick and why?
Massimo Bottura to explore my hometown food culture, through his weird way of  deconstructing and reassembling.
Dead or alive – 3 famous people you would invite around for dinner…
Carl Cox, Valentino Rossi and David Lynch! 
A dish you have yet to master…
Homemade pizza!
Your favourite pizza topping
Just good tomato, basil, olive oil and habanero chilli on top. LESS IS MORE!
A dish you just cannot eat
I HATE RAW CORIANDER! All the rest is just awesome.
You get in from the club pissed, dive in the fridge and usually come out with…?
A beer or some coconut milk (random I know)
Part 2 – Ibiza focus…
My favourite restaurants on the island…
Vegan: Wild Beets (below), Eat Is Life…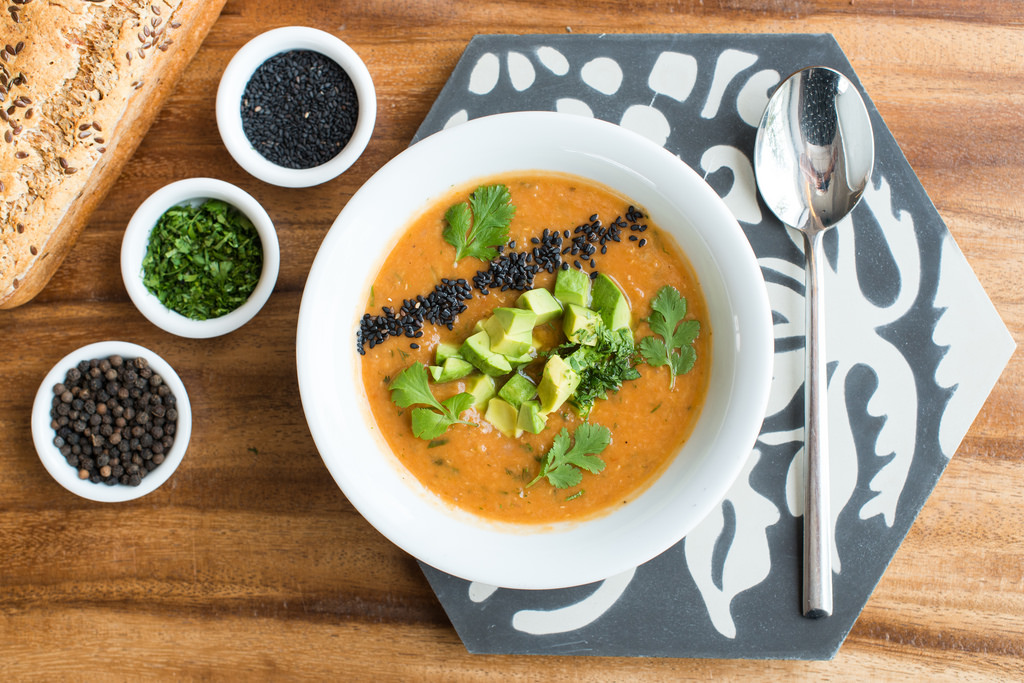 Paella: La Caracola and Can Pujol…
The best sunset spot for a cold drink…
Elements in Benirràs
A record that always reminds you of Ibiza
Adam Beyer & Enrico Sangiuliano – Preset Heaven
This is a track which Adam and I did together, whilst thinking about the island during the summer and it's amazing sunrises! I've also heard it being played many times all over La Isla.
Your favourite Ibiza dish
Paella de Marisco hombre! Now I am just getting hungry with all this food!
The perfect 24 hours in Ibiza would be…
To wake up in the countryside surrounded by nature, somewhere like Cala Comte. Then have an amazing breakfast with fresh fruit and a tostada. Head out to the ocean for a swim, drive to a nice little hidden restaurant for lunch. After lunch, we should probably try to get a tan, but on a boat whilst navigating around Es Vedrà. Watch the sunset with a refreshing drink in my hand, followed by a fantastic paella next to the ocean. Then well, have you got your tickets yet for the Drumcode Resiatance showcase? That's where I am heading! It's going to be a long night!
https://www.facebook.com/enricosangiuliano/
https://soundcloud.com/enrico-sangiuliano
https://www.instagram.com/enricosangiuliano/?hl=en
You can find Enrico playing in Ibiza next for Drumcode's Resistance Showcase at Privilege on the 7th August, alongside Adam Beyer and many more.
His debut album 'Biomorph' is out now and available on Beatport https://www.beatport.com/release/biomorph/2282084