Sirus Hood
The irresistable producer from Paris guides us through his kitchen…
A record that always reminds you of Ibiza
Betoko – Raining Again
Your perfect breakfast would be…
Crêpes with a bowl of tropical fruits and a big glass of fresh orange juice.
The most unusual thing I have ever eaten…
A sheep's head. My dad loves it. Ewwwww
The dish that reminds me of my childhood
Mashed potatoes with steak hache (minced)
Who taught you to cook?
Maomao
Your favourite 3 restaurants in your home city…
Livio, Les 4 Frères, Big Fernand
5 other restaurants from around the world you love…
The Halal Guys truck in New York, Lanificio Cucina in Rome, 348 in Sao Paulo, Burger Joint in New York, Aldea Corazon in Playa Del Carmen
A DJ or musician that has surprised you with their cooking skills at home/their home…what did they cook?
Justin Martin's smoothies are something !
Your guilty pleasure food. You know you shouldn't but you always do…
ICE CREAM ICE CREAM ICE CREAM ICE CREAM!!!
What is your signature dish?
The perfect mushroom cheese and basil omelet
If you could have a master-class with a celebrity chef, who'd you pick and why?
Gordon Ramsay. I just love the guy and his character.
Dead or alive – 3 famous people you would invite around for dinner…
Paul Johnson, Robert Owens, Daft Punk
A dish you have yet to master…
Risotto, still need practice
Your favourite pizza topping
Cheese Cheese Cheese and Cheese
Your biggest ever food mistake
I've mistaken salt for sugar…in my beginnings of my adventure with food….
A dish you just cannot eat
Raw Meat, sushi..
You get in from the club pissed, dive in the fridge and usually come out with…?
I would prefer to go to a McDonalds, but if my fridge was the only option, I would heat up one of my delicious pizzas (that I store in my freezer)
The most expensive meal you have ever had?
Kobe Beef
Ibiza…
My favourite restaurants on the island…
The Fish Schack, El Chiringuito (below), Can Pilot
The best sunset spot for a cold drink…
Cala Tarida at Cotton Beach Club
Your favourite Ibiza dish
Grilled fish
The perfect 24 hours in Ibiza would be…
Rent a boat, take my friends to a very small island towards North of Formentera only accessible with a private boat…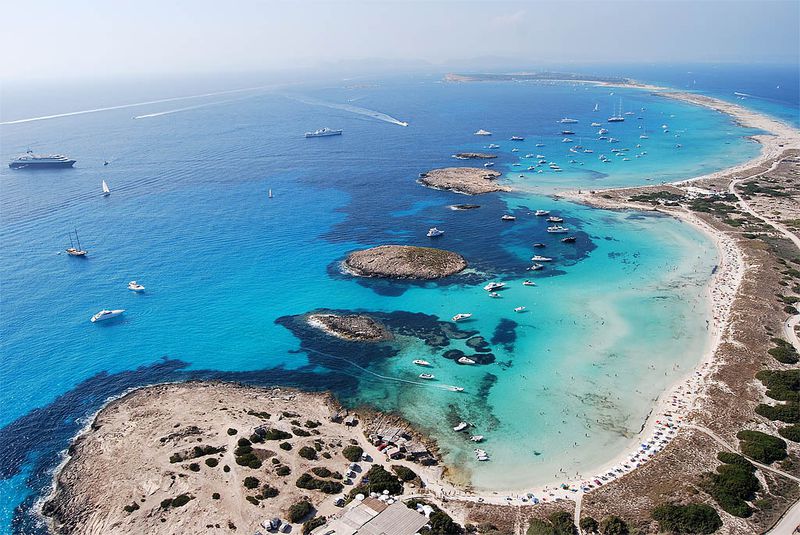 …spend the day on the beach, watch the sunset on the way back followed by dolphins, have a dinner in a great restaurant, play in a good club with a good sound system and a good crowd, eat a Margarita slice of pizza in Playa Den Bossa before going to a cool after party, watch the sunrise before a good sleep on the magical island…